Excavator Skill Builder
Do you or an employee require training in the safe operation of a tracked excavator?

Do you need to gain time in the seat to build or refine your excavator operating skills?

Want to be a construction operator?
Excavators form the backbone of construction sites. Skillful, trained operators are always much sought after. Train in digging and loading techniques and correct propulsion methods at Besafe Training. Our excavator simulator training uses state-of-the-art technologies to train operators to high levels of proficiency and safety levels in earth moving equipment.
Learn how to safely operate a tracked excavator in a safe environment. If you want to upskill yourself and work with an excavator, our simulator is the next best thing to actually sitting in the cab and operating a real machine. Excavator operators learn to carry out various training tasks such as trench digging, pipe laying and dump truck loading.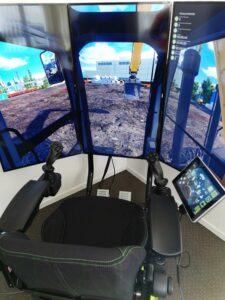 Simulator training provides a safe, hands-on experience for operators, teaching users using the same OEM controls and machine applications they would find on real-world work sites across New Zealand.
Whether you're a beginner or an experienced operator, the simulator has a variety of training scenarios to suit your capabilities. 
Our excavator operator courses are designed to train, re-train and evaluate correct digging and loading techniques and propulsion methods.
The skills obtained in the proficient use of this machine also mean you can adjust to other types of earthmoving equipment.
Course Information
Book a skill builder session on our simulator to build your hours in the seat. During the session, you will have full access to all tasks within the simulator to ensure you have the opportunity to refine the particular skill you want to focus on.
1 hour = $75.00 + GST
2 hours = $127.50 + GST
3 hours = $180.00 + GST
4 hours = $225.00 + GST
This is a great starting point if you are wanting your tracks (T) endorsements and do not have the current experience.
---
Why choose Besafe Training?
Besafe Training is a category 1 education provider. In our review by New Zealand Qualifications Authority (NZQA), we received the highest possible grade. We were found to be:
Highly confident in educational performance
Highly confident in capability in self-assessment
For our health and safety short courses, our performance was rated as excellent.
A survey of our learners in 2018 found that:
after attending Besafe health and safety training, 93% reported a positive attitude and agreed that courses were useful to keep and maintain health and safety in their workplaces
after attending Besafe health and safety training, 97% noted valuable learnings they could implement immediately in their work environment
98% would like to attend more health and safety courses to gain the knowledge to work safely within their workplace.
Besafe Training Ltd is a Private Training Establishment (PTE) based in Rosedale, on Auckland's North Shore. Besafe delivers a wide range of one-two day full unit standard courses and refresher courses either in-house for client organisations, or as public courses. To organise a health and safety representative training course call us on 0800 333 899.
Related courses
If you'd like to know more about our NZQA registered training courses, get in touch today.