Course Information
Besafe Trainings Digger Operator course is a training program designed to teach individuals how to safely and effectively operate a digger or excavator. The course will cover topics such as machine safety, pre-operation checks, operating procedures, and basic maintenance. This is the course for you if you're looking for a change of industry or just want to get more experience under the guidance of an industry professional.
This is a two-day course, you will also gain your Wheels, Tracks and Rollers endorsement.
During the course, participants will learn how to:
– Operate the digger in a safe and controlled manner
– Carry out pre-operation checks on the machine
– Plan and carry out digging and excavation tasks
– Use the machine to move and place materials
– Conduct basic maintenance tasks, such as greasing and fueling the machine
– Identify potential hazards and take appropriate safety measures
Upon completion, you will have gained your RTW endorsement and be issued with a certificate of competency.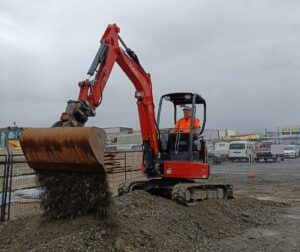 Entry RequirementsFull Class 1 Drivers Licence
Duration
2 Days
Price
$1,060 + gst per person (no additional credit fee applies)
What You Will Achieve

Level 3
NZQA 16701
Unit
Demonstrate knowledge and skills for driving on a road for endorsement W (wheels)
3 Credits
NZQA 16702
Unit
Demonstrate knowledge and skills for driving on a road for endorsement R (rollers)
3 Credits
NZQA 16703
Unit
Demonstrate knowledge and skills for driving on a road for endorsement T (tracks)
3 Credits

Besafe Training - Digger Operator - Introduction Certificate